Steve Duperré
by J. Caesar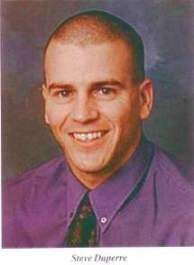 (Reprinted with permission from The Linking Ring, January 2005 Vol. 85 No. 1)
Steve Duperré has two passions: magic and bodybuilding. Although very different, they do possess a number of similarities including constant work and discipline.

At 34 years of age, Steve has been published in David Acer's notes, The Linking Ring, The Magic Menu, and the Canadian Association of Magicians' magazine Northern Peaks. His original ideas and routines are highly technical and entertaining. Although some of his effects can be relatively easy to perform, most of his material is not for the faint of heart!

An eleven year member of the I.B.M., Steve is currently the President of the Ottawa Society of Magicians, Ring 151, where he has been voted Ring Magician of the Year twice. Steve has been a regular at the exclusive FFFF Close-Up convention since 1997.

Steve is a purist in both hobbies and is not afraid of hard work. He is not afraid of using technically demanding sleights to perform an effect and he has never resorted to steroids or other performance-enhancing drugs to build his physique to what it is today. Insisting on remaining 100% natural, Steve was recently the winner of the lightweight division of bodybuilding in Ottawa. He approached this competition with the same single-minded effort he dedicates to his magic. He uses a scientific, systematic approach to all his preparations.

He is prepared for consistency, dedication and sacrifice.

Steve graduated as an Electrical Engineer from University of Ottawa in 1994 and has worked for Canada Revenue Agency (since 1992) as a Senior Systems Analyst/Designer developing computer applications. He also works as a personal trainer part-time (since 1997) for the City of Ottawa.
Copyright 2006
Ottawa Society of Magicians, Roy Cottee Ring 151 of the International Brotherhood of Magicians